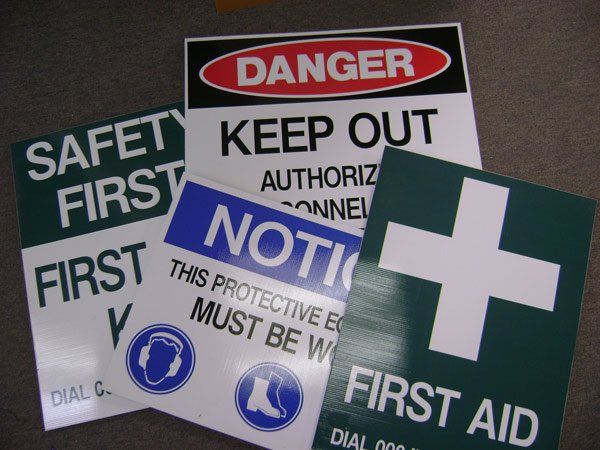 A safety sign is a sign that gives a specific message to the ones, who may be exposed to hazards in the workplace. This sign can also be used to signify health hazards, prevent accidents, and indicate the location of emergency and safety equipment or to offer guidance and instruction in an emergency. The primary purpose of displaying these signs is to prevent injury in specific situations and environments. Besides, these can be used for several other safety purposes.
If you want to create a safe and well-defined workplace, you need to add a safety sign/s in your workplace. But you may keep wondering among the huge range of safety signs Adelaide which one will be the perfect fit for your business or facility. To help you, here, we have discussed the common safety signs and their uses.
Mandatory signs
As mandatory denotes must, a mandatory sign provides an instruction that needs to be followed. Generally, these kinds of signs come in a blue circle on a white background. For example, if your business or industrial area is a hazardous one and one needs to be equipped with the protective gear like eye protection, foot protection, masks or gloves, you can mention this through a mandatory sign.
Prohibition signs
You can understand from the name that this kind of sign prohibits one from doing something. Comes with the universally recognizable red circle with a diagonal line through it, this kind of sign is ideal when you want to prevent people from entering an area or doing a particular thing. For example, a NO ENTRY sign keeps people from entering private property while NO SMOKING is a signal that people are not allowed to smoke in a particular area.
Warning signs
Do you want to aware people of a hazard or hazardous conditions that can hurt people but are not life-threatening? Then, you need to use warning signs. Comes with a black triangle in the yellow background and the hazard symbol, one can identify it very easily. A commonly recognisable warning sign is SLIPPERY WHEN WET. There are countless others too. Warn people with a sign and lower their possibility of being injured.
Danger signs
Is there a danger that you want to make people familiar with? Use a danger sign. A black rectangle with a red oval inside it, along with the word DANGER in bold and capital letters within the oval, make people aware of the possible threats. HIGH VOLTAGE and DO NOT ENTER are common examples of these kinds of signs.
Fire signs
The bright red of Fire Signs makes it easy for people to spot around fire alarms, as well as fire-fighting equipment. White text and imagery in the red background can easily catch the attention of people. Generally, these signs are used to indicate the location of all your fire equipment, like a fire hose, fire extinguishers, fire blankets, etc.
Emergency information signs
Emergency signs help people find the direction to, or location of, the emergency-related facilities, including emergency exits, safety equipment, or first aid. One can easily identify the signs with white writing and symbol in the green background. Some common examples of these kinds of signs are EMERGENCY PHONE, FIRST AID KIT, etc.
Now, you can easily understand what kind of safety signs will be ideal for your workplace. So, what to wait for? Opt for a reputable sign maker who designs safety signs along with neon signs and vehicle signage Adelaide, and order the right sign for your business.
Author bio: Andrew Smith is a popular blogger on outdoor signs, neon signs, and vehicle signage Adelaide. In this article, he has discussed a few types of safety signs Adelaide and their uses.